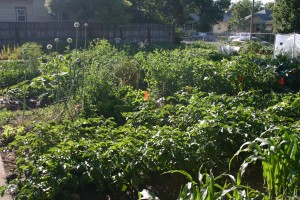 The garden at the Electric City Conservatory is located at 1413 5th Ave. N and is our organic garden. The garden began several years ago as a project for the youth group at Our Savior's Lutheran Church, which was led by Casey Bailey from Fort Benton. He did a fantastic job amending the soil and building the absolutely lovely raised beds that make up the current garden. He turned the garden over to River City Harvest to manage as a community garden in 2010 as other organic and sustainable agriculture endeavors required his full attention. Gary Petrini, one of the owners of Electric City Conservatory (and Flower Farm, its sister greenhouse operation) agreed to have us there. As he had from the beginning, he allowed us to use the property at no charge AND pays for all the water. (He also put up the chain link fence when Casey started it.) With his help, we've been able to make this garden a success.
We offer 20 plots to rent with 5 additional ones set aside to grow fresh produce for Meals On Wheels. The sandy
loam in the form of the raised beds is a great garden bed with fewer weed problems than many other gardens, and the smaller sizes (roughly 100 square feet) is ideal for beginner gardeners, as well as veterans who like to plant intensively.
An herb garden was planted in 2011 for all of our members to use. There are plenty of culinary herbs to enhance your meals, as well as selections of medicinal herbs for those knowledgeable in this area.
We try to hold classes on season extension, soil amendments and herbs each season, with many more to be added to the list in future years.
These gardens fill early, so if you're interested be sure to contact us as early as possible. The cost is $25 per plot. There is a $40 clean up fee that is refunded at the end of the year if your plot is cleared of debris and any remaining hardware.